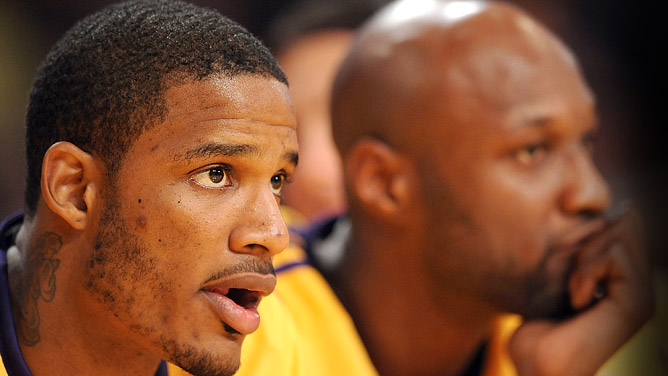 Before the long weekend ahead, let's discuss some recent developments in the weeks following the Lakers' championship season.
In a tale of two swingmen, it has been reported that Trevor Ariza is dissatisfied with the Lakers' initial offer of $5 million/year. The other free agent on the squad, Lamar Odom, has expressed his desire for a $10 million/year contract (taking a $4 million salary cut). Ariza, at just 24 years of age, has a tremendous upside that includes rebound ability, defensive smarts, and three-point shooting. A swingman plus, the former Bruin can undeniably play ball and has proven himself confident in the clutch, especially in the postseason.
Odom a.k.a. Gummy Bear, has ten years of experience, outstanding popularity among his teammates and an exceptional level of versatility (though I hesitate to agree with anyone claiming Odom's "ball-handling ability"). The big man stepped it up harder than just about anyone each night of the NBA Finals and played well in the overall postseason after a hot-cold winter-spring.
At the end of the day, it's difficult to discern who's a better investment for the Lakers, though many claim that Ariza's breakout season had much to do with the Kobe-Gasol-Odom threat that would draw defenders and leave number three free to drop bombs. What renders this argument slightly less convincing is the fact that Ariza did not start until the postseason, and his performance with the bench team was just as good. Odom is a bigger loss for this team with respect to winning a championship in 2010, but trading Ariza would leave a major hole in the long-term Laker future. Furthermore, what Ariza displayed in the postseason was nothing short of spectacular from such a young acquisition.
Whether by steal or by triple, at home or away, Ariza's play, more than perhaps anyone else on the team, put out opponents' fire. While Kobe's superhuman focus would keep the team in the game, Ariza's big play factor in the clutch allowed him to redefine what we understand as swingman: he swung momentum.
It would be sad to see either forward leave, but I gotta keep the young'n if I'm thinking dynasty. The Lakers could really hit the jackpot by dealing Odom for a more consistent, younger three-point shooter and rebounder. It would be a blow to the team's charismatic, sugar sweet core, but Odom's inconsistent and lazy play in the regular season next to Ariza's consistent growth and work ethic was frustrating to watch, to say the least. But don't get me wrong, I genuinely hope both players can stay here to win again. Let us also keep in mind that this is merely an initial offer by the Lakers, and plenty of negotiating will follow.